Worlds
FASTEST
Edsel?
I received the following e-mail message and photo. Judge for yourself who holds the mark for Worlds Fastest Edsel!
"I have a picture for you. This photo was taken at the 1st annual World's Fastest Edsel Shootout held in 1997 at the Tulsa Oklahoma Raceway on June 1997. These are the three Edsel's that dared to show up for some heavy heads-up racing. My dad, Ralph Fleischman of Amarillo, Texas, is the owner of the Red and White 1958 Ranger. Although technical problems (nitrous backfire) prevented us from a victory in 1997, we did return in 1998 and claim the crown as the World's Fastest Edsel with an 11.76 @ 116 mph against the Black '59 Edsel.
Although Ralph's Edsel is used as a race car part of the time, his Edsel is very streetable and was even driven on both the 1996 and 1998 "Rod and Custom" Americruises racking up a measily 3500 miles roundtrip on both tours. The Edsel has a 472 cubic inch Ford Big Block with a C-6 Tranny, 4 wheel disc brakes, Holley Pro-Injection, Keyless entry, and a CD player. Future plans include adding more cubic inches with a stroker motor (514 cid) and a larger cam shaft. Maybe 1999 will dispel any question who has the World's Fastest Edsel - I sincerely doubt it!"
Keep up the good work. Dan Fleischman

More EDSEL Racing!!!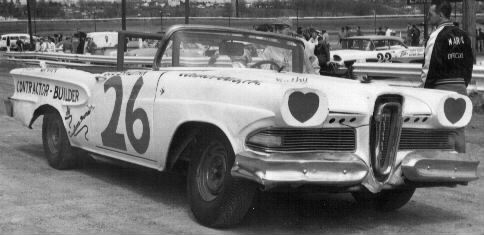 This photo af a '58 Edsel stock car was found on eBay's web site. Someone was auctioning off this black and white photo. As I recall it stated that the photo was taken at a stock car race in Ohio in 1959. Always looking for more EDSEL racing photos and info to add to the site. By the way, eBay is an interesting place to check for EDSEL stuff that is for sale.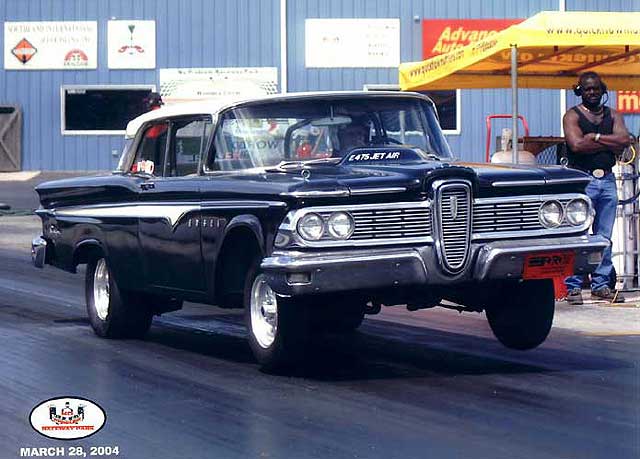 Is this the worlds fastest '59 Edsel? A visitor sent me the photo and I'm still waiting for the story to go with it. Soon as I get it I'll post it.
Don't really know if this counts as racing, but this is my Cousins Edsel, that eventually became my first Edset back in 1976 (without the intake tubes, etc....). There are some stories about this Edsel that are now practically legends!
If you have any Edsel racing news or photos send 'em along. I love to add Edsel racing news whenever I have the opportunity!
Back
E-mail Me