"Goin' To Kansas City"
or



How I Wound Up With a Yellow Corvair
Well actually, we didn't really go to Kansas City. We went to Liberty, MO... just a few miles north of Kansas City. But...close enough for me. Perhaps I should start at the beginning.
I'm not really sure how it all happened actually. For some reason I have yet to discover, my 18 year old son Ryan suddenly became interested in Corvairs. He bought one. A '65 Monza. With a broken motor. But not to be alarmed, another motor came with it along with other various parts. This whole event rekindled my interest in Corvairs. You see, I am not a Corvair virgin. My Dad had a Corvair back in about 1971 (I'm guessing on the year) which we sold and replaced with a new Ford Pinto in 1972. Then in about 1976 I purchased what I suspect was a 1966 Corvair that had about 50% of a Crown V-8 conversion done on it (for those of you who don't know..that's where you shove a Chevy 327 V-8 into the backseat of a Corvair). Myself and two friends got this on the road and shortly thereafter sold it to someone who was even crazier than us, who I understand went on to race it at Brainerd International Raceway. I only have two rather crummy snapshots of this Corvair. Click the little pics below to see nice BIG ones.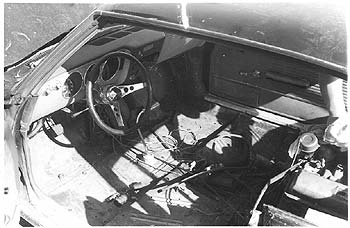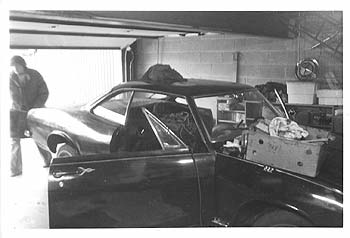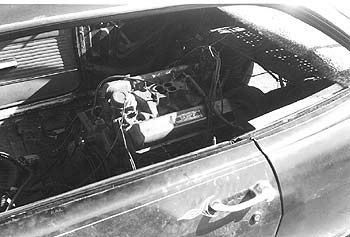 A 3rd photo of my old Crown conversion has surfaced!
So...anyway, some how, some way, my Corvair interest was rekindled. I enlisted Ryan to locate one for me. My requirements were simple: It had to look like a car, be licensed, and be able to be DRIVEN from where ever he found it to our home in Northern Minnesota. So after reading all the classified ads on the various Corvair web sites, in club magazines and newsletters he announces he found one. Within a few days a deal had been made for the purchase of a 1964 Monza Coupe. Nicely equipped too. 110 HP motor, 4 speed transmission. quick action steering, electric fuel pump, Pertronix electronic ignition, and it's been updated with new brakes all around including conversion to a dual master cylinder. It's dressed up with a Spyder dash and glove box door, has sporty Nissan alloy wheels and low profile 15 inch tires. In all, a real sweetheart...oh...and....it was white. Did I mention I hate white cars?
We made plans to zip from our home to Liberty to fetch the car. Originally my Son and I were just going to zip down, and zip back over a weekend. About 650 miles one way. Then my daughter who lives in Minneapolis announced she wanted to ride with so she could say she had been to Missouri. Then, my wife decided she wanted to come with, and not only that, she would take vacation time so we didn't have to hurry. Soon, the date was firmed up to make the trip. We'd leave on a Saturday morning at 6 AM, pick up daughter at 10, be in Liberty by 5, then turn around and get back as far as Minneapolis late that night. We did it. But not without incident!
First of all, in southern Minnesota, driving along interstate 35, we spy an old car way up in front of us. You know you can always tell an old car from a long way off due to their unique shape compared to anything built the last 30 years. It was a Studebaker. Going 50. While everyone else is going 70 or 75, flying right past. We pass. We look at the driver. I kid you not..there was a CLOWN driving! A full blown, fully dressed, completely made up, red rubber nose, rainbow wig and all CLOWN! We decide this is hysterical, the camera is brought out. By now I've moved way ahead of the Studebaker. My wife readies the camera. I move into the right lane and slow to 45 so he can catch up. He's slow. He's fighting the steering wheel. Finally he's right behind us. I try to move to the left lane so she can take his picture thru the passenger window. This is not a good idea. Have you ever tried to go 50 in the left lane next to another car going 50 in the right lane, while the whole world is trying to pass you going 75? She tried to snap a couple photos but the first one she missed...got a nice shot of the front corner of the fender. Second try was right on, but the sun shined off the drivers window of the Studebaker and wiped out any chance of seeing the driver. Finally I had to move over to the right lane or risk my life. The camera was handed off to Ryan, who grabbed a couple shots out the back window of our Blazer. Yes, you can see there is a CLOWN driving the car! I had to have a picture or no one would have believed me! Click the little pic below for the Big one.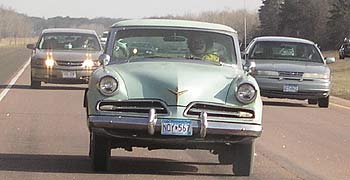 Our trip continued without any more clowns. We were making good time. Did I mention the gas gauge in the Blazer (our support vehicle) doesn't work? I've always kept very close track of mileage, figured very conservatively, and always filled up again with at least 5 gallons to spare. That's what I was saying to myself as we ran out of gas on the freeway in Des Moines. My daughter Stacia and I hiked up the entrance ramp to a Kum and Go station, bought a gas can and 2 gallons of gas, hoofed it back to the truck while Ryan and my wife Ronna kept watch, fired it right up, took the next exit and filled up. I put 20.17 gallons into my 20 gallon tank.. I'm blaming the 40 MPH headwinds and driving 75 as factors that threw off my regular calculations.
We still made it to Liberty on schedule. The seller has given us excellent directions and we drove right to his house. The car was ready to roll. After exchanging cash and title we hit the road back to Minneapolis. The Corvair (and the Blazer for that matter) drove perfectly all the way to Minneapolis, with a quick stop again in Des Moines for gas and food. We arrived in Minneapolis at 1:30 AM. Just over 1000 miles in a day.
Sunday we gave the car a good looking over. You know how it is. You look it over when you buy it, but since I had already committed (sight unseen) I wasn't too concerned. The seller gave me no reason to suspect anything and this was very right. I couldn't even find anything to do to the car. Mechanically everything looked new or near new. Nothing needed tweaking. The radio didn't work. This was the only flaw (which I knew when I bought it). I found the speaker in the dash was dead, and I temporarily hooked up a speaker to use to listen on the last leg of the trip.
Did I tell you about when I was 12 y ears old? See, when I was 12, I built a model Corvair. I painted it yellow. This was my chance to make in real life the car I had built as a boy. Weeks before we went to pick up the car I had contacted the folks at Maaco near my folks house in Minneapolis, for a paint job. I wanted it yellow. No one else at my house wanted it yellow....AND it clashes with the red interior...but I digress. I didn't want a lot of fancy body work. I just wanted it yellow. We had a Monday morning appointment at 9 AM at Maaco. So we headed over, and on the way the fuel pump in the Corvair stopped pumping. I knew because it's electric. And it's mounted right under the floor and you can hear it running. I heard it NOT running. Within 30 seconds it conked out. I pulled off into the median. Ryan was following. We called the fella we bought it from. He never had fuel pump trouble, but passed on the tip that occasionally the electric pumps when they got old and worn, would stop, but if you tap them they would start up again. We jacked it up, Ryan tapped the pump, and it started up and we drove it to the body shop. We left them the Corvair. They sanded it, primed it, gave it a coat of sealer, and painted it glossy GM Millennium Yellow! We picked it up Thursday morning. Drove it back to the house without incident. To be safe, we replaced the electric fuel pump and headed back home to Bovey, Minnesota (near Grand Rapids) where I am using it as my daily driver. A co-worker has nicknamed it the "Screaming Yellow Zonker". Photo of the Corvair white (before) and yellow (after) below. And as usual, click the small picture for a big one!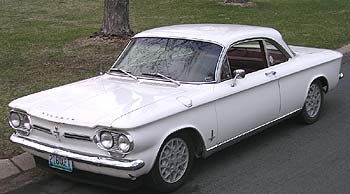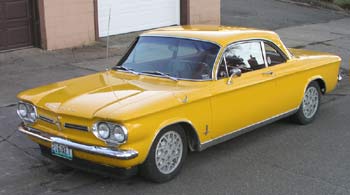 Oh, and before you e-mail me and tell me this is a 1962 car, let me warn you....I KNOW the front "grille" trim is from a '62, but the seller is sending me the correct 1964 front trim bar, so that will be fixed shortly! Didn't mean to confuse you!
As the Corvair adventure continues I'll add links below with updates.
We now have cool Corvair T-Shirts and Sweatshirts in the Edsel Motors Store! Have a look!
E-Mail Me
Back to the Main Index