EDSEL SCRAPBOOK
Welcome to the "Archival Scrapbook" This is everything from the old website's scrapbook pages, all put together on this one HUGE page. It may take a while to download, so you might want to get another cup of coffee, especially if you're on a dialup connection. Anything beginning in 2005 will be in a new scrapbook, which I have just started to assemble. So please keep your photos and materials coming and I'll add them to the current and new scrapook pages. INteresting to note that many of these photos go back to the mid 90's, whcn digital imaging was in it's infancy as far as the average consumer was concerned. LKots of low quality scans and digital photos here, but we thought they were the cats pajama's just a few short years ago!
A nifty place for Edsel fans to share their photos from meets, car shows, Edsel meetings, or whatever. Photos can be e-mailed directly to me for inclusion in the scrapbook. Please remember to include caption information.
Now, on to the Scrapbook!
Certainly one of the most beautiful Edsel's I've seen in a long time. the two pictures below come from Kent Petersson in SWEDEN! Thanks for the great photos, Kent!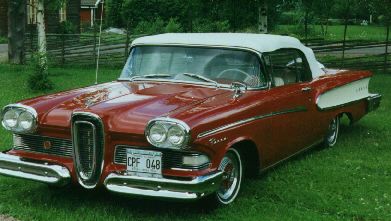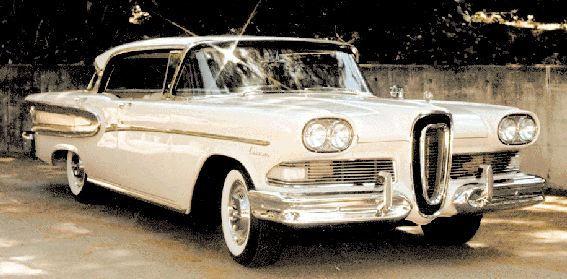 A very beautiful '58 Citation, which we thought belonged to Barry Norman of Arizona. Picture was e-mailed to me from Brian Martin, but it turns out it's actually NOT Barry's car! Thanks Brian, for sending a great pic anyway, and if someone knows whose Edsel this is, let me know so we can give credit to the owner!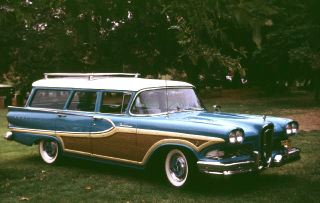 1958 Edsel Bermuda Wagon, owned by David Lee - President of the (S.Cal) Edsel Club and Fab 50's Ford Club. Photo by R.C. Claborne 1997 All Rights Reserved.
There are some new Edsel Toy Cars in the stores. Perhaps you've seen them?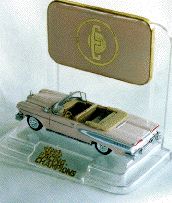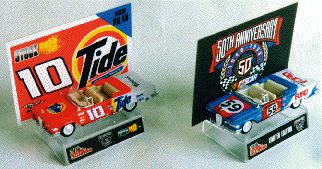 I've seen these in the local discount department stores such as Wal-Mart, Target and K-mart. The pink Citation I bought at a car collector booth at the World of Wheels car show in Duluth. The Tide racing car seems to be plentyful right now, and rumor has it there is also a black and white stock car version, done up in 1950's vintage racing logos, but I have yet to see one.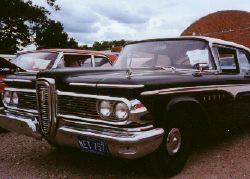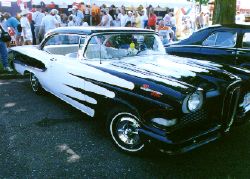 Here's a nice '59 Edsel at the Summer Dance Cruise, Surf Ballroom, Clear Lake Iowa, and also a "customized" '58 at the MSRA Back to the 50's Weekend 1997. Somewhere I've got a photo of the "custom" dash. If i find it, I'll post it.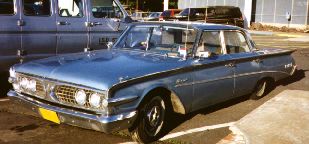 It's a nice '60 Ranger, taken at the joint Minnnesota/Wisconsin Fall run nearly 4 years ago.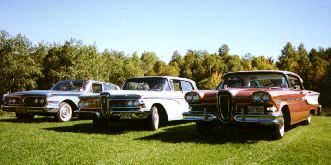 All three years covered, also from the Fall run, taken at Al Lilgreen's house during the big shindig. The swell Edsel cake (below) was also from this same event. We Edseler's know how to PARTY!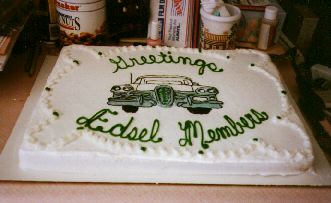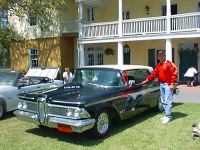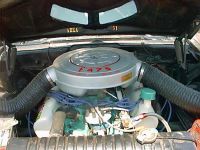 Charlie Robinson sent along these photos of what he says is the "Worlds Fastest '59 Edsel" with an 11.8 second ET at 110 MPH.Not too shabby, Charlie. For More "Worlds Fastest Edsel" news, click HERE! The challenge has been issued!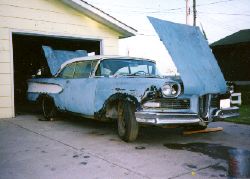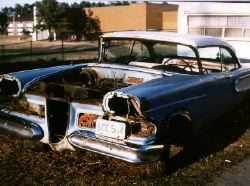 This is a '58 Ranger I bought with the hope of saving, however, the car was too far gone for me to ressurect it. So, in hopes that others might live, it's various parts were sold,traded, donated to other Edsels in need. Interesting foot note. Notice in the left photo there is a windshield. In the right photo, there is not. It went to a fella out west, who to this day insists I sent him a windshield from a '59 Corsair! Must be the air out there or something!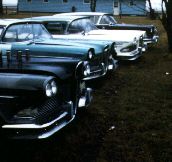 This is my cousin Walters Edsel collection, circa 1971. The black Corsair in the foreground I bought from him in 1976, my very first Edsel. Lots of good stories to tell about that monster!
Kris Trexlers beautiful 1958 Citation Convertible. Thanks for the photo, Kris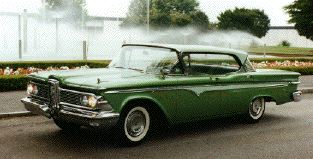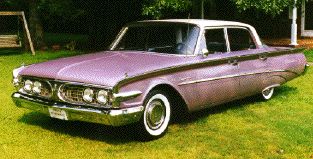 1959 and 1960 Edsels owned by Greg and Francis Pack of South Carolina. Greg says:"The 1959 Ranger 4 dr hardtop is Jadeglint Metallic with Mist Green top and spear. We bought this car in 1991 and we've driven it to shows in 13 states including New York,Wisconsin, Indiana, and Ohio. The 1960 is a Ranger 4 dr sedan and is Lilac Metallic with a Polar White top. This car belongs to mywife, Frances. We bought it in 1992, and finished restoring just in time for the IEC Rally in Spartanburg, SC in August '97." Thanks to Greg and Frances for sending along these fine photos.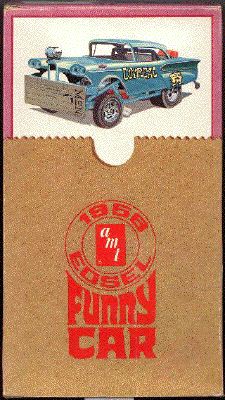 This is actually a vintage model car kit made by AMT, for an Edsel Funny Car Dragster. Boy I wish I had one of these kits today! A very rare item indeed!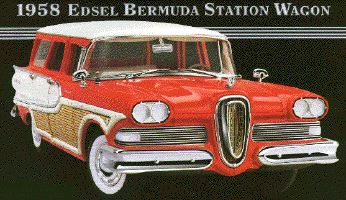 The Danbury Mint put out a scale model Edsel Wagon. This is the photo of the actual model from their sales literature. I purchased one, and it really does look this good. I do not know if this is still available, but you can write to them at 47 Richards Ave., Norwalk, CT 06857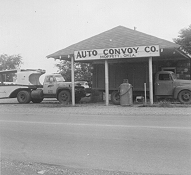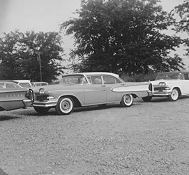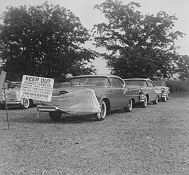 Photos of the newe 1958 Edsel being delivered to dealers, taken in August 1957 by then 13 year old Ronald Steinbach who graciously provided these photos for your enjoyment. The photos were taken at the Auto convoy Company while he was passing thru Moffett Oklahoma enroute to Florida for a family vacation. First picture is the Auto Convoy Company, where Ronald saw these "different" looking cars that he had never seen before. Apparently getting a little braver, ronald got the picture of the "All-New 1958 Edsel". They were serious about this vehicle! Note the sheet over the grille! The sign reads: "KEEP OUT common carriers operating under authority commerce commission permits from United States Government. Trespassers will be reported to the F.B.I."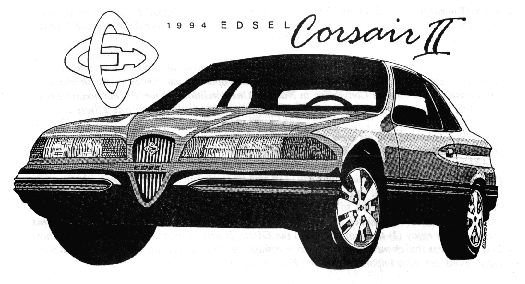 What if the Edsel had survived? It's amazing what you find when you start looking for something else. Here's an "artists rendition" of what the 1994 Edsel may have looked like. Drawn by Bob Ellsworth, one of the original deisgners of the actual original Edsel automobile.
Another Edsel Saved!
Received the following photos and note from David Fleischer:
Would you like these pictures for your scrapbook? Its a rather rough 4 door hardtop Ranger that I found in Salt Lake City, Utah in 1991. The first picture shows how it looked when I found it and how it looks today, still an unrestored original car that is a daily driver for trips within a five mile radius. In the first picture, there are several mattresses piled on the roof, and a kitchen table set was resting on the deck lid and the interior was filled with junk. I paid $300 for this car and its the best $300 I've spent.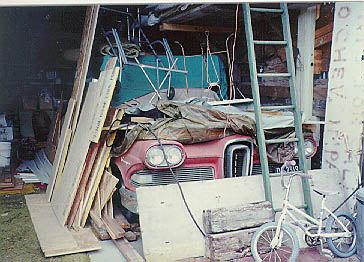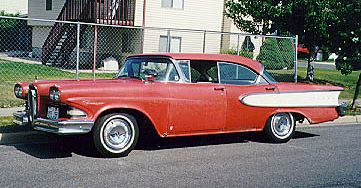 58 Citation owned by Kevin Cheetham of Millbury MA. Car is ember red with white trim and gold interior, all orig or nos.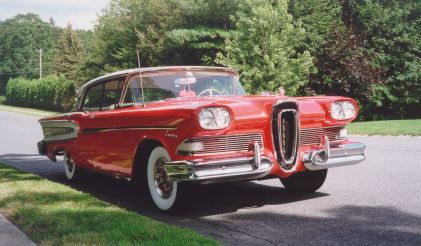 Dave Hollen sends along this swell photo of his '58 Pacer, with 34,000 actual, original miles!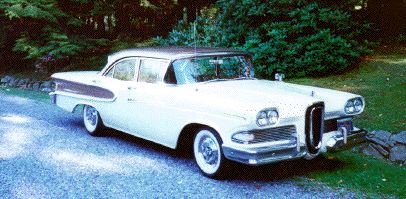 OK, back on scrapbook page one, there's some confusion about a '58 model. You'll find some details on THAtTconfusion below this fine pic of a '60 convertible!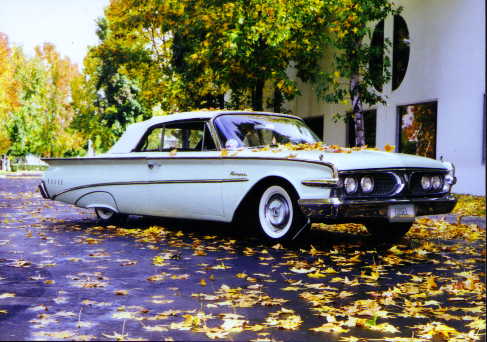 Sorry to have created any confusion over the '58 Edsel I E-Mailed to Brian Martin. I had not explained to him that it was not mine. And owning 17 autos, I'm sure he was mistaken that it was mine. Anyways, here is the favorite car of my collection: A Seafoam Green 292ci Mile-o-matic 1960 Edsel, VIN:OU12W702058. You may ask, "Doesn't the number 2 indicate a four-door sedan?" Your integrity is absolutely correct, as I purchased this auto from the Phil Skinner collection. After weeks of a laborious re-bodying process, (in the vane of Deusenburg restorers) I completely restored the car, frame-off, having used a floorpan "A"-pillar, windshield, and top mechanism from a '60 Sunliner. The rest of the car was the original '60 4-door sedan restored. This allowed the state of CA and later AZ to recognize this as an authentic convertible, listed on both titles. Please do post this in your gallery. P.S.: please note the liscense number IS registered to the car. Thanks, Barry Norman, Phoenix, AZ, email cars4movie@uswest.net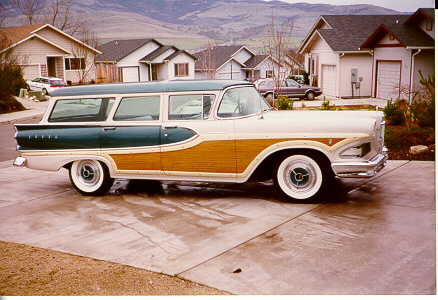 Randy Portwood sent along these two beautiful shots of his '58 Bermuda wagon.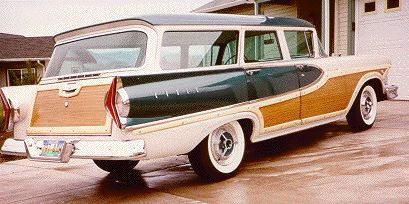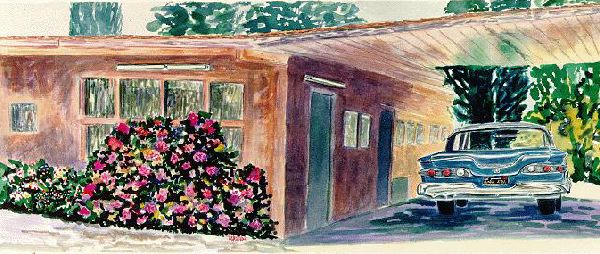 This is a nifty Edsel watercolor painting I found on an artists web page. It is titled "Edsel with Hydrangeas", and is available for sale as a much larger watercolor painting. There are also other auto related paintings available. Unfortunatly the gallery for this artist seems to no longer be on line, or has moved.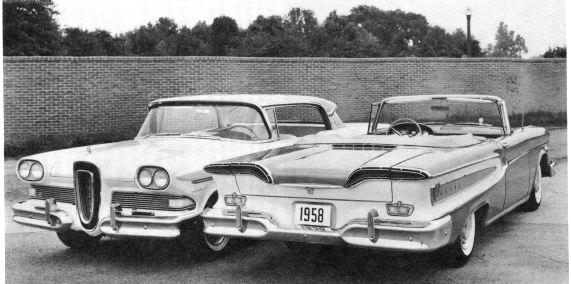 This is the most popular promotional photo put out by Ford to the press when the Edsel was being introduced.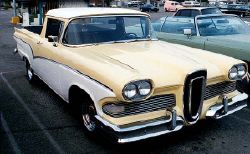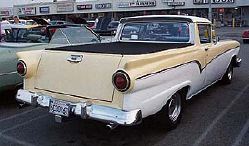 I know what you're thinking...but... Edsel did NOT make an "Edchero" It's amazing how many questions I receive from people who have seen one of these at an auto show. This is simply a '57 Ford Ranchero with a '58 Ranger/Pacer front clip stuck on the front. Not a bad idea, but not Edsel or Ford's idea. This pic sent to me by Thomas Miller, who spied it in Huntington Beach, California. Thanks for the photos, Tom. For more info on the "Edsel Ranchero", Robert English built one a few years ago, and has the story and pics at his website: http://home.pacbell.net/drakcap/EdRan.htm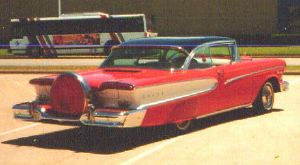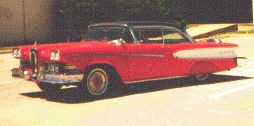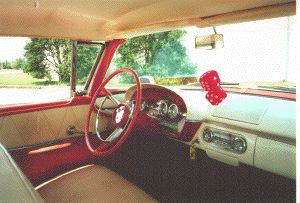 Here's a beautiful 1958 Pacer 2 door hardtop. One family owned, purchased new in Wichita Falls, Texas in September of 1957. It's Ember Red, jet black, and snow white. Owned by Ron Ball in Fort Worth, Texas. thanks for sending along the photos.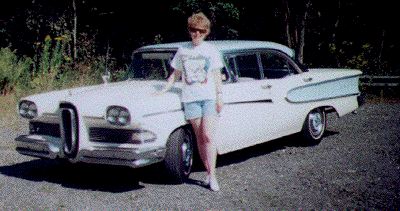 Bobbie Reno sends along the above photo with this note: Attached is a photo of my 1958 Edsel Pacer 4D Sedan. I purchased this car from Robert Mayer (the last Edsel Dealer). I love this car! Previously I owned a1958 Edsel Citation 4d HT. The Pacer is white with a powder blue scallop and top.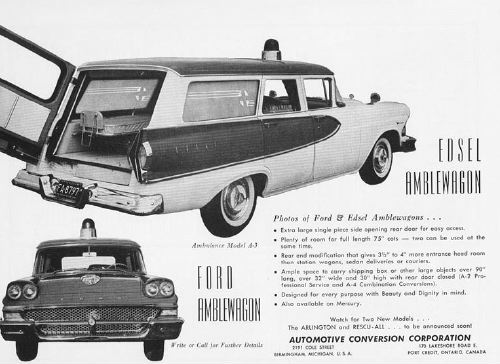 Dave Lee sent along this nifty advertisement from Automotive Conversion Corporation. Answering the age old Edesl question: "Did Ford make an Edsel Ambulance". The answer is NO, but these guys did! Thanks Dave (who is restoring one of these and promised to send along a picture when it's completed.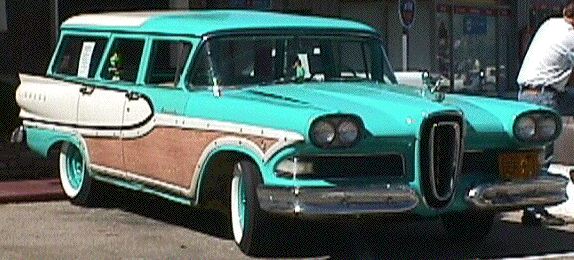 Bob Beyer sends along this '58 Wagon shot, and says this about it: I figured its time to show you the Bermuda I rescued out of the woods in the Sierras..last year...it had sat for 20 years! Motor was seized, one wheel was rust welded, they broke the brake drum geting the wheel off...and three baby rats were born in it during last years El Nino!!!.....It is still mostly original....I had to clean, seal the gastank and all the other usual stuff you have to do to get it roadworthy...got the engine free,this past April and it runs good, didn't have to remove it (yet!)....tranny works fine...I touched up the paint in my driveway, and drove it to its first meet 145 miles north (Paso Robles)two weekends ago.
This Edsel was built in Milpitas, Oct 57, sold in Fairbanks Alaska, and later traded in at a San Clemente Ford Dealer where the last owner worked as a technican, he bought it in the mid 60's and put 97k on it. It has factory working tach, towing pkg, and is a 6passenger. I had to replace both the tailgate and lift gate (damaged from rust) windshield and a back side window.. I sold the Blue Edsel Pacer (Edna) to a guy that lives 2 miles from me...he actually took this pix...color is supposed to be turquoise, digital camera off a bit...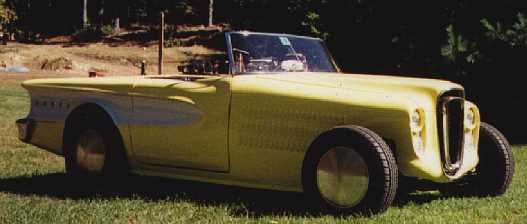 Ritchie Cockerline of Hudson Hew Hampshire sends along this snapshot of his '58 Edsel Roadster! He writes "It started out as a 4 door pacer. It now has a custom made frame, 302 eng, C4 trans w/teltouch shift. It has been narrowed 8 inches between the tail lights 13 inches at the new firewall the doors are the back doors of the 4dr"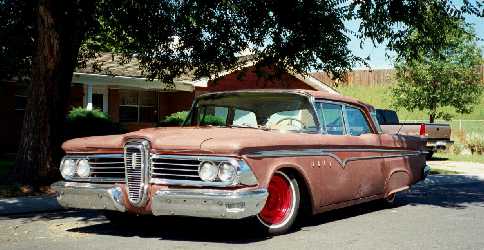 We all knew someone would have to give an Edsel the "Lead Sled" treatment, and here's one from Mark and Car'issa Karol who write: Here it is! It will not be long before the Sledsel is prowling the steets of the Denver Metro area. All work has been done by myself outside. I have no garage you see. Soon it will be painted Saphron Pearl, will sport wide whitewall tires and Lincoln hubcaps. A custom interior which will feature vintage 50's cloth insets. I have wanted an Edsel since I was 9 years old. I am 33 at this time. So enjoy and watch for another picture soon"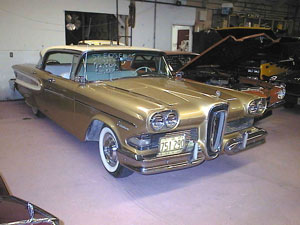 Here's a nice Canadian built Edsel owned by John and Deborah Slute of Whitby, Ontario, Canada. there are only 9 Canadian built Citations known to exist in Canada. John, thanks for sending the photo!
REceived this note and following photos:
Hey Hepcat!
My name is Jamio, and here is my mild custom ride. It's a Ultra rare 2door Edsel Corsair Hardtop. Car was in superb original granny condition when purchased. Every part is in good/great condition, right down to the Edsel water bag. Rare optioned 361 Super Express v8 rebuilt .30 over with RV2 cam, dual exhaust, skirts, 3spd auto. Dumped 3 in back, 2 in front. Custom Leapord print interior, 59 Caddy lenses, and custom tiki themed tribal scallop job by your truly. Purists keep your shirts on, the car can be returned to stock very easily. Much love to my car club, the SUICIDE KINGS, NorCal and the love of my life, my girl Miss Fortune Photos below!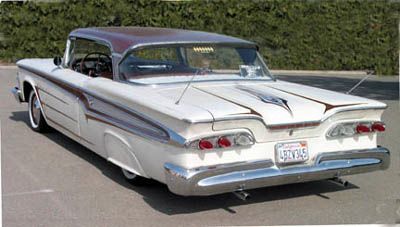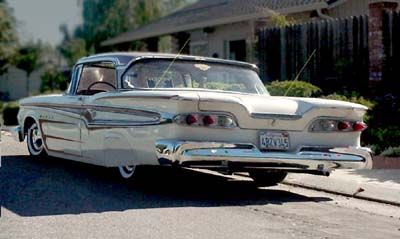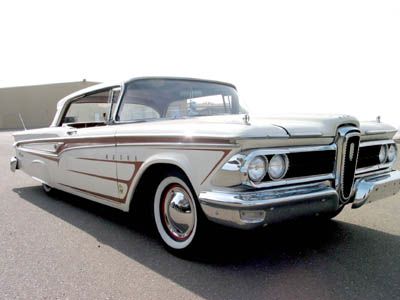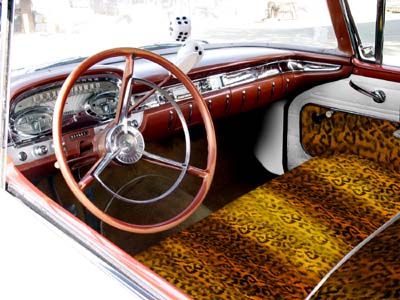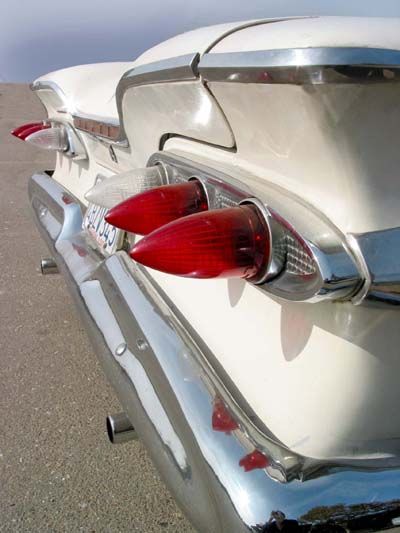 Todds Gallery (Collection of Edsel paper items and advertising)
E-mail Me
Back to Edsel Motors